Deborah Griffin — Artist based in London, UK
The Pig Show
Deborah Griffin – 'The Pig Show'
Solo show of new & recent works
Opening Thursday 7pm October 7th 2010
Resistance Gallery 265 Poyser St, Bethnal Green, E29RF
October 2010 at Resistance Gallery sees 'The Pig Show', Deborah's first
solo show which unveils five major new works alongside a number of
previously exhibited pieces. Amongst the new works will be large
installation-based sculptures, image-based work and paintings, thematically
linked to the complex, paradoxical and hypocritical relationship we as
humans have with animals, primarily pigs.
Pigs have historically been the brunt of many a joke and intellectually
regarded as a kind of benchmark definition of where 'animal' ends and the
far more elevated and upright 'humanity' begins. English philosopher John
Stuart-Mill in his 'Utilitarianism' (1836) wrote "…Better to be a discontented
Socrates than a contented pig".
The relationship between what it means to be all-too human or fall fowl (sic)
to our basest animal predisposition was never more explicitly laid at the
trotters of our pig-cousins than by George Orwell in 'Animal Farm' (1945)
"The creatures outside looked from pig to man, and from man to pig, and
from pig to man again; but already it was impossible to say which was
which".
The British Police have since their inception been referred to as 'The Pigs",
the feminist movement in the 60s and '70s expended much energy
exposing "Male-Chauvinist-Pigs" in society, as did left-wing movements
worldwide throughout the century with "Fascist Pigs".
Urban myth has long had it that, according to a variety of cannibal sources,
human meat tastes "a bit like pork".
"Pretty In Pig"
Sculpture: dried pig ears, satin ribbon, ornamental wire mannequin
"Sniff"
freeze- dried pig snouts, reclaimed chair
"Sniff" (detail)
"Pig Ugly"
Sculpture: mirror, freeze-dried pig snouts, magnifying glass and txt
"Pig Ugly" Detail
"Mourning Meat"
digital print
"Mourning Meat" digital print
"Bacon" Acrylic on canvas, freeze-dried pig snout
"Pigcasso" Acrylic on canvas with freeze-dried pig snout
"Lazy Pig" live installation
"Lazy Pig" (detail)
The Pig Show Opening Night
"He Ain't Heavy"
Antique glass case, monkey skulls, antique scales
"Unclean"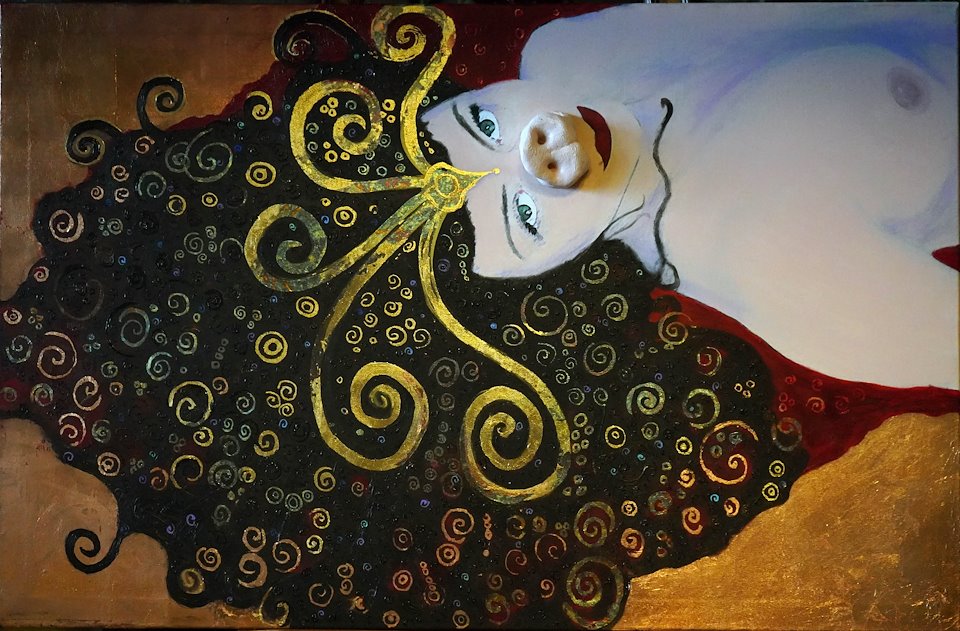 Unclean 2
Previous
Art For Survivors
Next
The Iconography of Mask